.
It's fun to dream and hope...
I realize that this issue has been truly beaten into the ground.
I can understand newbies who may dream of actually being able to witness a "reunion" with John leading the charge of Creedence Clearwater Revival with Stu and Doug kicking out the bottom end.
I can also understand those who witnessed with their own senses an actual performance of the original members back in the day hoping to re-kindle the flame.
But -- and let's make that a real big BUT, when John is taking care of fulfilling the wishes of his fans with the following types of turnouts in his recently completed tour of Canada, I just have a sinking suspicion that it has left very little personal energy to put into a "reunion" show.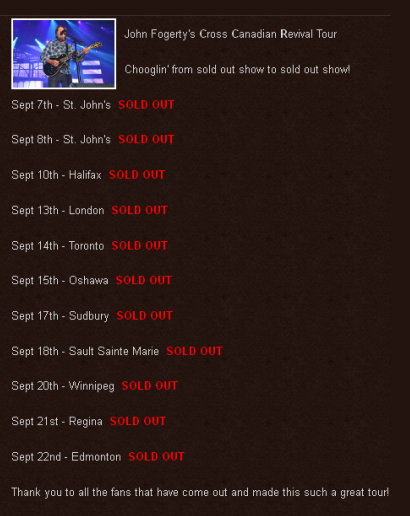 Just trying to keep "it" real.
Lorenzo
.